A home isn't complete without appliances that would make your living conditions easier. Frigidaire offers a wide range of home appliances that will suit your every need – from kitchen appliances such as ranges, ovens, cooktops, dishwashers, refrigerators, and such, to laundry appliances such as washing machines and dryers.
Keeping track of the condition of each and every appliance you have at home would be quite a feat, considering how much you have to do in a day. Also, there are a lot of different ways each appliance could break down, some of which would need an Frigidaire appliance repair professional.
There are some simple DIY appliance repairs – changing a light bulb, for instance. However, when you decide to go down the 'do-it-yourself' path, make sure that you can surely take on the repair project. You have to consider the different materials you're going to need, and how long it could possibly take you to finish the repair process.You need not be fully skilled in appliance repair, but you have to at least have some knowledge on how to go on about it. Although conducting a DIY repair can save you from a lot of money, it may cost you much more in the long run – if complications arise due to your own repairs.
Though there may be ways to repair certain appliances on your own, it's always best to seek for professional help. Some cases that require the help of a professional technician include replacing a refrigerator compressor, balancing a clothes washer, replacing fuses in appliances that require some disassembling, replacing of electrical cords, rewiring of appliances, or repairing gas lines, among many others.
Here are a few reasons why hiring an appliance repair specialist is always the best option for repairing even the easiest damages to your home appliances:
There are some repair duties that may not be part of your skill set, no matter how easy it may seem to do. You'd think that you'd be saving a lot of time and money when you repair it on your own, but in the long run, it may just cost you even more than if you just hired a professional to fix it for you.
Even if you do have the skill set to do some repairs on your malfunctioning appliance, you're not qualified to do so. Appliance repair specialists are qualified to do the job – they have had the training and the experience in repairing different kinds of appliances.
When a qualified repair technician fixes an appliance, there may be minor complications at stake, but not as much as if you choose to DIY the repair. No matter how easy the fix looks like it would be, chances are complications may arise if the repair was not executed properly.
Professionals are more knowledgeable about all sorts of home appliances. Chances are, they've repaired a whole lot of similar appliances with different kinds of damages, so they know exactly what to do with yours.
Professional repair technicians know how appliances have been constructed and put together, so they can easily spot something that is misaligned, which may be the cause of the problem.
They are fully knowledgeable about different appliances and brands – even the new ones.
It will only take them a little of your time to complete the repair. As a matter of fact, the amount of time you spend trying to figure out what's wrong with your appliance could be the amount of time they've figured it out and finished repairing it as well.
They are equipped with the proper tools to conduct an Frigidaire appliance repair.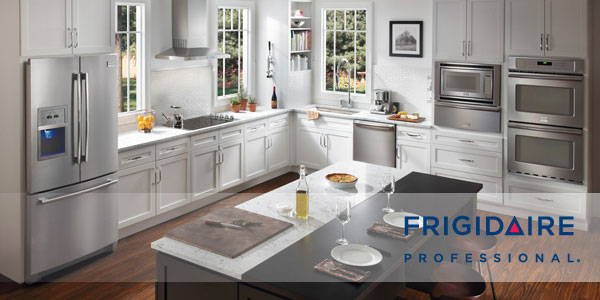 When you decide to hire professionals instead of trying to take on the repair project on your own, not only would you be paying for the immediate fix for your appliances, but also for the safety of your home. There may be instances where the problem lies in gas leaks or loose connections that may just disrupt your home (by causing illnesses or worse, deaths) if you don't know how to address them properly. Professional repair technicians are well trained and well experienced in their field of expertise to ensure proper service to their clients and that there will be no casualties in the process of the repair.
If you live in the Orange County area, do not hesitate to give us a call when you are in need of a professional appliance repair technician. At D&V Appliance Repair, we offer quality Frigidaire appliance repair service.
We specialize in appliance repair, with our pool of professional technicians having had years of training and work experience in the field. Because our professional technicians undergo regular training, they are updated with the latest models and units of different appliances. Our professional technicians are also licensed, certified, and insured, so you are assured of fast yet quality service. With that being said, we at D&V Appliance Repair promise nothing but utmost satisfaction for our clients.
We offer appliance repair service of the following brands: Amana, Bosch, Dacor, DCS, Fisher &Paykel, Frigidaire, GE/GE-Monogram, Hobart, Hot Point, Jenn-Air, Kenmore, KitchenAid, LG, Maytag, Miele, Samsung, Sub-Zero, Thermador, True, Traulsen, U-Line, Viking, Wolf, Whirlpool, among many others.
For your utmost convenience, we have an on-call basis service which will help match up to your availability and schedule preference. To be able to provide better service, our technicians arrive in a van full of genuine factory parts, that will enable them to perform an appliance repair immediately. In the event that a particular part isn't available, we will order the said part from our supplier and we will deliver it to you as soon as possible. Additionally, we provide up to five years warranty to installed parts.
Call D&V Appliance Repair in Orange County right now – 714-450-3994. Our dispatchers will be glad to answer all your questions regarding your broken appliances and will schedule a repair appointment for the most suitable time for you.

4.8 out of 5 stars
Reviews from our customers

about D&V Appliance Repair

Reviewer: Tom Q. –

My Bosch dishwasher was not filling water and the tech came to rescue. He did a great job and the dishwasher now works great.