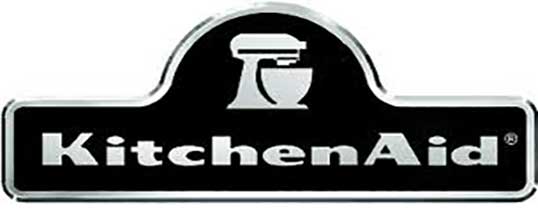 KitchenAid Appliance Repair
When it comes to companies that make ovens and other appliances, KitchenAid is one of the biggest and most trusted names in the business. The thing about this manufacturer is they are always in the cutting edge of research and development, and they make sure all their ovens and other kitchen appliances they manufacture go through the strictest quality assurance checks and that they are made only with the best materials so they last ages.
KitchenAid didn't always make ovens because they were originally known for their standout stand mixers; however, they have expanded their line to include refrigerators, slow cookers, grills, hoods and vents, dishwashers, toaster, water filters, etc. When you have KitchenAid appliances in your home, you know you can avoid breakdowns and other kitchen mishaps that are so common in other cheaper brands. KitchenAid is an American brand and is owned by another appliance giant, Whirlpool.
Appliances made by KitchenAid have a solid reputation for ease of use, sturdiness and excellence, and people feel that it gives them great value for their money.
What are the Advantages of KitchenAid Appliances?
There are many reasons why people opt for KitchenAid Appliances, and one of them is they feel a certain loyalty to the brand. Reputation aside though, what are the advantages of investing in a KitchenAid Appliance? Check them out below:
Warranties – Each and every appliance that is produced by KitchenAid comes with a warranty, which means that the company has your back in the event that something goes wrong with your oven and you need to have it repaired or replaced. KitchenAid appliance do not often breakdown, but it is still a great feeling to know that there is a warranty you can fall back on in case things go wrong.
Superior construction – The appliances made by KitchenAid are of superior construction, Thye were designed to give you optimal performance each and every time. This also means that you get to save in the long run, because there will be minimal need for a KitchenAid appliance repair.
Top-quality materials – KitchenAid ovens will never rust or fall apart and the reason for this is because they are made of sturdy materials that can withstand years of use and abuse. Unlike other appliances, a KitchenAid can last you decades if it is used and cared for properly.
Aesthetic design – KitchenAid Appliances are a joy to use but they are also a joy to behold and they look just as good as they function.
Calling in Appliance Repair Experts
You might think it is an easy thing to call in an appliance repair company to come on over and have a look at your KitchenAid Apopliance but that is not true. What you want to do is call on a KitchenAid appliance repair expert or professional, because they have the skill and the tools of the trade to make the necessary repairs. You might think you will save money if you call on just any repair man but the fact of the matter is, they will just make things worse and you will end up having to call on a KitchenAid repair expert anyway, and spending twice the amount for professional services.
When you call on someone to repair your KitchenAid Appliance, make sure they do not make a mess of things and cause you to lose your warranty. Also, it is a bad idea to try and fix things on our own because you can damage yourself or your appliance.
The best thing to do for a KitchenAid appliance repair is to call in a professional, and we at D&V Appliance Repair can help you with that because our team is composed of fully-trained service professionals to make your appliances feel and look brand new!
Calling D&V Appliance Repair ( 714-450-3994) you can be sure that your KitchenAid Appliance will be served by professionals. Call us right now 714-450-3994 to book your appointment.
Please note: Our Service Call Fee for all residential KitchenAid Appliances is $85.00. This is a fee we charge for a repairman to come to your house and perform a professional diagnostic of your unit's problem. After the diagnostic is done you will be given a written estimate for the total repair. Please note, we don't charge for our job hourly and never include in our invoice any extra overtime, emergency, weekend or after-hours fees. The price for repair job is a flat fee and include price of part and labor. The price you will be given is final and won't increase even if we need to come again to bring more parts for replacement. The amount of service call fee will be deducted from your total repair bill when you confirm your willingness to do a repair with our company.
KitchenAid Appliances we repair in Orange County:
KitchenAid Refrigerators
KIitchenAid Grills
KitchenAid Cook tops
KitchenAid Dishwashers
KitchenAid Ranges
KitchenAid Wall Ovens
KitchenAid Vent Hoods
Why chose us for KitchenAid Appliance Repair:
We provide professional services for different types and brands major residential appliances like refrigerators, washers, dryers, ovens, ranges, stoves, cooktops, vent hoods, dishwashers and microwaves.
We offer same day and emergency repair service at no additional charge.
All repair jobs performed on site at the most convenient time for you.
Our technicians are specially trained to repair house appliances with years of experience
All of our technicians are properly licensed, certified and liability insured.
We offer same day and emergency repair service at no additional charge.
Our Service Call Fee will be waved from your total invoice when you decide to do a repair with our company.
We use only genuine factory parts from our trusted suppliers.
We extend our Parts Warranty up to 5 Years.
We fully stock our vans with appliance repair parts to be able to complete a repair the same day we come.
For your convenience we work on weekends end evening-hours.
We accept all major credit cards and personal checks.
Call Appliance Repair in Orange County right now – 714-450-3994. Our dispatchers will be glad to answer all your questions regarding your broken appliances and will schedule a repair appointment for the most suitable time for you.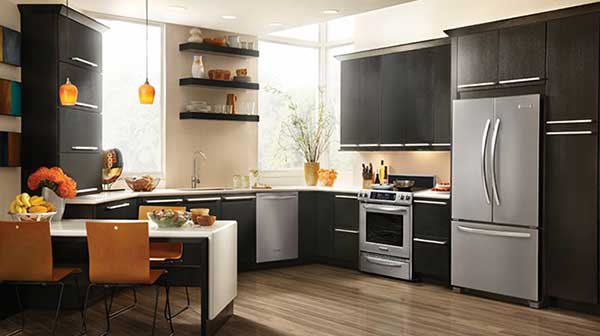 REVIEW THIS BUSINESS!

Please let us know what you think about our services!
Please leave a review about our business on your favorite search engine, directory or social media website. Thank you!
D&V Appliance Repair is rated 4.8 out of 5 stars
Reviews from our customers

about D&V Appliance Repair:

Reviewer: Alex K. –
Great job on repairing my Kitchenaid Refrigerator…I was told by other company that the parts are no longer available and the repair is not possible. The good thing is that I didn't trust them and asked for a second opinion. D&V Appliance Repair managed to fix my fridge and i am gratefuller to them…