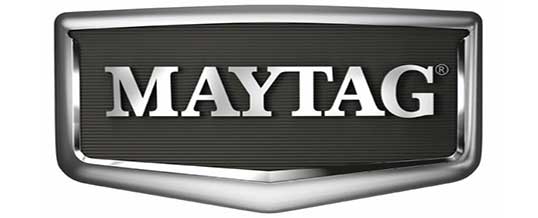 Maytag Appliance Repair
Choosing home appliance most homeowners look for quality and durably and then consider the price, trying to find the best price-quality ratio. In case of Maytag appliances customers will pay slightly more than for other cheaper brands out in the market, but Maytag appliances have the benefit of being created and designed with quality by experts to make sure they meet all quality tests and tested to be reliable and durable in high loads.
The Maytag Washing Machine Company was founded in 1893 and during their more than 100 years history it gained customers' recognition. In 1953 Maytag was the first to introduce automatic dryers on the appliance market. In April of 2006 Whirlpool purchased Maytag and continued to manufacture appliances under Maytag brand name to this day; today their line includes all kitchen and laundry appliances as refrigerators, ranges, ovens, washers, dryers, dishwashers and many more. These days, appliances under Maytag brand are considered some of the very best around and they continue to come up with different variations of household appliances that prove to be indispensable to homeowners in the country and all over the world as well. There was a time when Maytag appliances were the most technology advanced, reliable and durable on the market, and they stand up to the competition. This company has been one of the top makers of top-quality household appliances for generations, and they were able to hold this honor till these days. As Maytag's motto says: "What's Inside Matters."
Maytag appliances offers quality and reliable appliances, but despite their time-tested durability, they do come with some problems and bottlenecks that every other appliance brands have. Like any other appliances eventually your Maytag washer, dryer or refrigerator will require some type of minor or major repair. Appliance parts do become worn-out in time and will require replacement.
Maytag refrigerators are well-designed and made to be sturdy but one common problem that people have experienced with them throughout the years is that the motor tends to burn out. This can lead to a number of problems because if it happens at an inopportune time when there is no one at home, the ice will melt and the food will get spoiled. The motor can be replaced and a Maytag appliance repair technician can do it easily. Maytag washers are some of the best on the market but there are times when they do require repair. If your washer isn't washing the clothes well, then you have a problem with the agitator. Again, it is an easy fix for someone who has experience in the field. On the contrary, someone who doesn't have basic knowledge in appliance repair, can may just make things worse. You do not want to make a simple problem get bigger and more expensive simply because you decided to save some money and fix the problem yourself. It's always better to call a professional appliance repairman.
Maytag appliance maintenance. You do not need to worry about your Maytag appliances if you take the time to clean and maintain them like they require. It is an easy errand and most of what you need to know and to do is written on your appliance manual anyway. It is an owner responsibility to read the manual and follow instructions to ensure that your appliances stay in a good shape. For stoves and ranges, clean up any food spills as soon as possible so they do not burn and cause uneven heat distribution. Make sure you arrange the food neatly in your freezers and refrigerators, don't overload your refrigerator with food and always properly close the door; keep the setting as they should be so you do not experience any burnouts and clean condenser coils regularly.
D&V Appliance Repair is one of the leading companies in Orange County, specializing in Maytag appliance repair. In our everyday practice we are dealing with repairs of all kinds of Maytag kitchen and laundry appliances. Our repairmen are specialists in appliance repair and are continuously trained to follow up with all technical innovations on appliance market. You can entrust us your Maytag appliances without any doubt. Due to high professionalism, experience and full stock of necessary parts we are able to perform 85% of Maytag repairs in the same day. Our technicians carry in their vans huge stock of parts for replacement, we use only high-quality brand-new parts and use only original parts from certified suppliers. We offer 5 years extended warranty for any replaced part. In case we need to order some rare parts for your appliances, we usually receive them within 2-4 business days.
Our company has provided appliance repair and maintenance services for years. We have fixed thousands of Maytag appliances and keep fixing them every day. As soon you notice any problem with your Maytag appliance in your business, laundry or kitchen, call us immediately. Any minor problem can become a major one without proper service; the sooner your appliance is fixed, the less money you will spend on the repair in the future.
Calling D&V Appliance Repair you can be sure that your Maytag Appliance will be served by professionals. Call us right now 714-450-3994 to book your appointment.
We are open from 8:00 AM to 9:00 PM every Monday through Saturday. We are also on call after our normal scheduled hours and on weekends for emergency repair services. Most orders placed before noon will be served the same day.
Maytag Appliances We Repair:
Maytag Front& Top Load Washers
Maytag Washer/Dryer combination
Maytag Dryers
Maytag Side-by-Side, French Door, Bottom Freezer/Top Freezer Refrigerators
Maytag Ice Makers
Maytag Ovens, Ranges and Cooktops
Please note: Our Service Call Fee for all residential GE Appliances is $45.00. This is a fee we charge for a repairman to come to your house and perform a professional diagnostic of your unit's problem. After the diagnostic is done you will be given a written estimate for the total repair. Please note, we don't charge for our job hourly and never include in our invoice any extra overtime, emergency, weekend or after-hours fees. The price for repair job is a flat fee and include price of part and labor. The price you will be given is final and won't increase even if we need to come again to bring more parts for replacement. The amount of service call fee will be deducted from your total repair bill when you confirm your willingness to do a repair with our company.
Why chose us for Whirlpool Appliance Repair:
We provide professional services for different types and brands major residential appliances like refrigerators, washers, dryers, ovens, ranges, stoves, cooktops, vent hoods, dishwashers and microwaves.
We offer same day and emergency repair service at no additional charge.
All repair jobs performed on site at the most convenient time for you.
Our technicians are specially trained to repair house appliances with years of experience
All of our technicians are properly licensed, certified and liability insured.
We offer same day and emergency repair service at no additional charge.
Our Service Call Fee will be waved from your total invoice when you decide to do a repair with our company.
We use only genuine factory parts from our trusted suppliers.
We extend our Parts Warranty up to 5 Years.
We fully stock our vans with appliance repair parts to be able to complete a repair the same day we come.
For your convenience we work on weekends end evening-hours.
We accept all major credit cards and personal checks.
Call Appliance Repair in Orange County right now – 714-450-3994. Our dispatchers will be glad to answer all your questions regarding your broken appliances and will schedule a repair appointment for the most suitable time for you.

REVIEW THIS BUSINESS!

Please let us know what you think about our services!
Please leave a review about our business on your favorite search engine, directory or social media website. Thank you!
D&V Appliance Repair is rated 4.8 out of 5 stars
Reviews from our customers

about D&V Appliance Repair:

Reviewer: Anita J. –
…Thanks for repairing my Maytag washer, great service!.. Will refer to my friends…