Samsung is probably among the most sought-after brands when it comes to home appliances, not only because of the popularity of the name, but because of its reasonable pricing and quality products. Their range of refrigerators come in different sizes and designs–from those with French doors to the side by side types. They also have washers and dryers, as well as gas, electric, and induction ranges too. Samsung has basically thought of everything that a household needs to keep everything in place, bringing so much convenience into every home.
As with anything else around your home though, no matter how durable its construction is, your Samsung appliances also have their own lifespan. Just because it's Samsung does not always mean that it will always perform at its optimum level. The way that your Samsung appliances perform will also be dependent on how you take care of them. No matter what Samsung appliance you're using, its continuous use will cause some of the parts to malfunction, prompting the need for appliance repair right away. Some parts also experience regular wear and tear through time, which would mean that they would eventually need replacement.
Common Refrigerator Problems
What causes people to call D&V Appliance Repair for their refrigerator problems? Here are some of the most common problems we at D&V encounter and solve:
Refrigerator is not cold enough.
Refrigerator is too cold, causing food to freeze.
Refrigerator is making weird noises.
Refrigerator is leaking water.
Ice maker is not producing ice.
Water dispenser does not work.
Ice dispenser does not work.
These problems, if not taken care of right away, could cause even bigger and more complicated issues in the future. Because of this, you should make it a point to call us for refrigerator repair the moment you notice any of these issues, or anything similar.
Common Washer and Dryer Problems
Samsung also has a good range of washers and dryers that could sometimes show a few problems through long period of use.
Washer or dryer won't turn on.
Machine does not spin or tumble.
Dryer produces little to no heat.
Washer does not drain.
Washer leaks.
Again, these problems could eventually stem to bigger ones if left alone. These could also disrupt your regular routine, especially if you have an entire family waiting for a fresh set of clothes for the next few days. Going to the laundromat may be an option but this can be very inconvenient, considering the need to haul baskets filled with dirty clothes to and from your home.
Common Range Problems
For those who frequent the kitchen, Samsung also has a number of ranges out in the market. If you have one of their ranges, here are a few problems that you should watch out for:
Stovetop works inconsistently.
A single burner fails to turn on or produce heat.
Indicator lights do not glow.
Stovetop burner maintains a single temperature only.
Stovetop works, but oven doesn't.
Oven does not get hot enough.
Oven door refuses to open or close.
Oven light is not working.
Convention feature does not work.
Self-cleaning feature does not work.
The food cooked is lopsided.
The problem with these is the fact that some of these problems can also affect the quality of the food that you prepare, something that just wouldn't do in a busy household.
Why Call D&V Appliance Repair
Why choose D&V over all the others for your washer, dryer, oven range, and refrigerator repair needs?
We all know that there are a number of reasons why you need to call your trusted appliance repair professionals the moment you start having problems with any of your appliances. Whether it's your oven range, your refrigerator, or your washer and dryer, you need to reach for that phone for the following reasons:
To attempt to bring your routine back to normal the soonest possible time
To prevent the problem from getting worse
To prevent specific issues to affect other parts of the machine
To prevent bigger costs should the problem worsen
To prevent having to buy a new appliance
Always choose the option that would bring the most convenience to you, with the least amount of costs possible. This is exactly why you have to make that call the moment you detect a problem, and why DNV Appliance Repair should be the first number you dial.
We have professional technicians who have been formally trained and have experienced working on almost every possible problem that you may have. This means that they are able to fix anything when it comes to your appliances, ensuring long-term fixes instead of temporary ones that could still lead to immediate problems.
We run to your side the moment you call, ensuring that the problem is fixed the same day. With a 3-hour appointment window, we are able to call you when we're on our way, arrive at your location on time, diagnose the problem, and apply the best solution.
We give you an additional 5 year warranty on top of the manufacturer's warranty every time we replace a part. This shows that we are fully confident in the work that we do and in the tools that we use.
We make sure that our vans have everything that we need, allowing us to save time. There's no need for us to run back to headquarters when we come up with a fix and a list of the parts that we need – everything is right there with us.
We apply a flat rate in everything we do. We don't charge extra for emergencies, late hour repairs, or weekend jobs either. We apply a basic formula: Labor + Parts + Taxes.
So for fast and quality appliance repair in Orange County, CA, call D&V Appliance Repair right away and have the problem fixed in no time.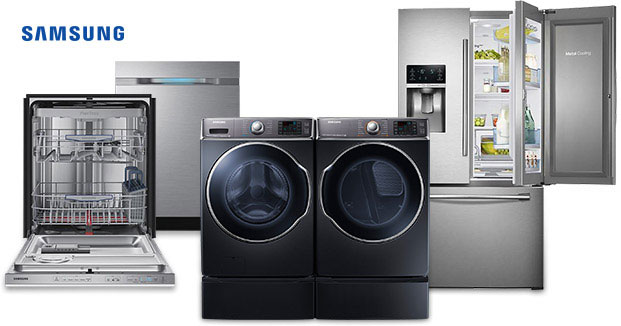 4.9 out of 5 stars
Reviews from our customers

about D&V Appliance Repair

Reviewer: Marine G. –

Thank you for repairing my JennAir refrigerator. Awesome Job!