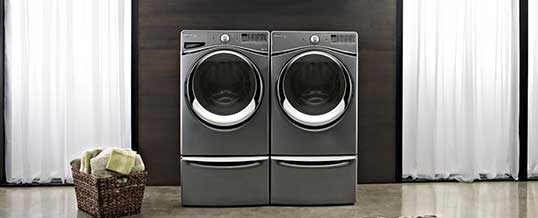 Washer Repair and Maintenance Tips
As with other appliances in the house, a washer can be very expensive to replace. This is why maintenance should be done regularly to keep the washer from breaking down. A washing machine is important in providing the family with a supply of clean clothes and if it breaks down, washing dirty clothes will be problematic. With that said, make sure that you know how to properly maintain your washer so that you will be saving money.
Maintaining a Functional Washer
You don't need to wait for a washer to stop working before you start repairing it and maintaining it afterwards. From the time that you buy the washer, you can keep it working efficiently by cleaning it properly. There are some lint that can clog the drainage and filters—cleaning these does a great deal performance-wise. Also making sure that there is no excess detergent clogged up in the containers will ensure that the washer will clean your clothes properly. You don't want excess detergent being the reason for washer repair because that's one thing you could have prevented by simply cleaning the container regularly.
The Washer Doesn't Get Filled With Water
This can be caused by:
Clogged hose filters
Bent hoses
Faulty timer or buttons
First, check if the hose filters are clogged and clean them thoroughly. Even if the washing machine is still functioning, it is important to keep the hot and cold inlet hose filters clean. Regular maintenance won't take an hour, so make it a habit. Also make sure that the water supply hoses are straightened. If they are bent or crooked, water will not reach the washing machine. One other reason why the appliance might not be filling up is because of the timer not being set to the starting point. If this is the case, slowly turn the timer. Try pressing some buttons and see if the washing machine fills up after that. If that still doesn't solve the problem, how about you let us check the extent of the damage? We can also do the appliance repair straight away so that you can go back to doing your laundry within the day.
Washing Machine Overflows
The washer is supposed to stop filling the tub with water to prevent overflow. If it doesn't stop filling with water, you might want to check out the overflow switch. It will probably need replacement, but that's something you can do on your own. If the overflow switch is not the problem, it could be the timer. That would also have to be replaced to ensure that your washing machine will start working well again. If you're not sure how to replace the overflow switch or the timer, or if you're not sure of the problem at all, then a call to professionals like us would be your best bet. Instead of tinkering with washer repair and possibly causing problem problems, we recommend calling us right away.
The Machine Doesn't Run
For this problem, you first need to check whether the machine will run with water in the tub. To do that, simply fill the tub with water and try running the machine again. If that doesn't solve your problem, it could be that the lid isn't closed properly. Close that and try again, and if that still doesn't work, press the switch firmly. If the switch is pressed properly and the washer still doesn't work, it could be because the load is too heavy. You might want to lighten it and let the motor reset for about 15 minutes. Don't get frustrated, this could be just a glitch. However, if after resetting the motor the machine still doesn't run, your best bet is to have it checked out and repaired.
This problem can also be caused by a blown fuse or a tripped circuit breaker. If that is the case, make sure to unplug the appliance before performing washer maintenance. You can replace the circuit breaker or fuse yourself, but if you're not knowledgeable in doing that and don't want to risk ruining the washer any further, you can easily call us to look at the problem and perform the needed repairs for you.
A washer might also stop working if the water shut-off valves are open. Check if this is the case and close them to start using the washer. If the washer still doesn't work even with the valves closed, check if the circuit breaker is tripped. If that is still not the problem, I'd recommend dialing our number to have your washing machine assessed. And while you're waiting, unplug the appliance to avoid accidents.
There are some things that you can avoid, but there are others that you cannot, but that doesn't mean that it automatically means replacing the washer. In some cases, isolating the problem and replacing certain items could get the washer working again. Before deciding on buying a new one, make sure that you consider appliance repair first.
Troubleshooting your appliance can be tedious especially if you don't have knowledge of how the machine works, but doing so can help you identify the problems and solve them with ease. However, there are some problems that are too hard to solve for someone who has no appliance repair experience, and tinkering aimlessly could just worsen it.
It is your choice whether you want to try to do the washer repair by yourself, but if you don't want to, or if you don't have the time, we can easily have the repairs done for you. We are professionals who are familiar with the different washer models and brands. We don't just do generic assessments. We look at your appliance's model and brand to identify the unique details about it that could help us assess the problem and solve it quickly. Our aim is to repair the washer as quickly as possible, but even more importantly, we want to do it properly. So come call us if you're having doubts about your washer's performance and we'll have the repairs done for you before you know it.
For appliance repair in Orange County call us now – 714-450-3994. We are open from 8:00 AM to 9:00 PM every Monday through Saturday. We are also on call after our normal scheduled hours and on weekends for emergency repair services.